At WorldVue, we blend technology and hospitality to create the perfect guest experience. Personalization and attention to detail are the differentiating characteristics of luxury brands. In particular, luxury hotels are set apart by their attentiveness to guests and personal touch. With WorldVue, you can provide guests with superior levels of service and accommodation.
Customized Communications
Our WorldVue Entertainment HUB™ enables you to welcome guests with a personalized message on the screen. You can also feature your guests' unique itinerary and highlight their favorite hotel amenities. Our WorldVue HUB™ platform is designed, created, and managed in-house by CarrierWave Creative, so you can easily personalize your guests' experiences.
Guests can read your menu, order takeout, or find restaurant recommendations all from their guestroom TV. WorldVue HUB™ provides the meaningful experience of a 24/7 luxury hotel concierge, taking care of each guest from the comfort of their room.
Luxury hotel properties can also decide which premium channels to provide for guests and what streaming services will enhance their experience. This personalization eliminates the one-size-fits-all cable service and allows you to decide what you'd like to offer for your guests. You know your guests better than anyone; that's why we let you take the reins to customize their experience to make your brand and keep guests coming back time and time again.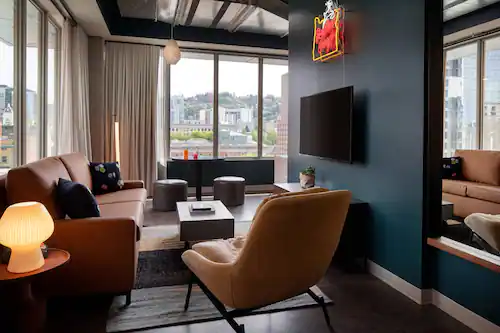 Superior Service
At WorldVue, the customer always comes first. We provide a seamless technology experience, proactively monitoring each room for all potential technological issues. Our 24/7/365 customer service platform ensures we are always available to take your call. In the last year, we doubled our Customer Care Center staff to ensure that every service-related case is proactively handled within minutes.
These recent advancements allow us to immediately connect you with a customer representative from our Houston headquarters as soon as you call, regardless of your time zone.
Additionally, if we can't solve the problem remotely, we'll provide in-person assistance from one of our reliable technicians. We ensure customer service by stationing technicians within 60 minutes of every location we service.
Connected Spaces
Connected spaces are the future of hospitality, and it's important to provide each guest with access to the physical features of their rooms. To ensure customer comfort, WorldVue Digital Infrastructure™ can work with smart flooring systems and window treatments in addition to temperature control and lighting management. Additionally, WorldVue, our network connectivity system, gives you, the hotelier, the power to control each room remotely. Through WorldVue, management can synchronize the entire IoT program with our remote, energy-efficient management systems. With the touch of a button, you can reset each room to factory settings to prepare for the next guest.
We marry WorldVue with your existing property management system to create a unique profile for each guest, noting their preferences based on previous stays. This capability provides management with the power to tailor each room before the guest arrives. For example, luxury hotel management can customize the temperature in a room or remotely tune the television to a guest's favorite channel based on information gathered from their previous stays.
Future-Proof Solutions
As technology adapts and your guests advance, your needs may change. At WorldVue, we build technology systems to grow with your business. Through our partnership, we ensure you're always up to date on your customers' needs, providing superior support from pre-planning to post-installation.
Each of our customers has their own project manager: a technology engineer dedicated to a specific company and in tune with each unique need. This extra level of personalization trickles down to your luxury hotel guests. Additionally, working with us ensures you can provide your guests with a robust internet experience through high-performance networks and fast and reliable service.
At WorldVue, we believe that service is an art form; that's why we take care of our customers every step of the way. We pride ourselves on ensuring our customers' everyday needs are always met through our commitment to innovative, intelligent technology solutions. Contact us today to receive your free technology audit today. In conclusion,
WorldVue – We deliver. Every time. No exceptions.™