Sable at Navy Pier opened its doors in March 2021 to the public. Named for the USS Sable naval training vessel that was stationed at the pier during World War II, Sable at Navy Pier channels the nautical pedigree of its site perched high above Lake Michigan.
Maverick Hotels and Restaurants tasked WorldVue, DISH Business, and LG Electronics with delivering a sustainably designed and technologically advanced solution to support this one-of-a-kind property.
To power entertainment across the property, WorldVue leveraged SMARTBOX technology from DISH Business. Amir Ahmed, SVP of Sales, commented, "DISH Business is proud to be working with Hilton and WorldVue to deliver an engaging, personalized, in-room entertainment experience that will delight the guests of this incredible property."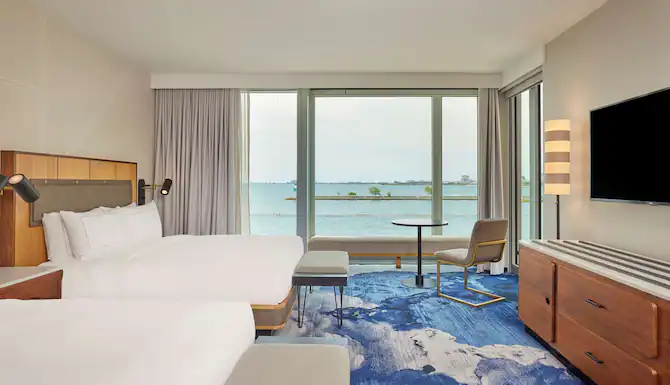 "When it comes to Sable, I have to look at several things: quality, service, and price.
WCI delivered on all three," said IT professional Sam Selim. "Our installation was
seamless. It contributed to making our recent opening a success."
A WORD FROM THE GENERAL MANAGER, LAURENT BOISDRON
"Sable is a place where overnight guests can find an unmatched hotel experience in Chicago, as well as the most spectacular lake and skyline views in the city. After more than 100 years, we are excited to bring the first and only hotel to the iconic Navy Pier."
Learn more in our latest case study.